Real Estate and Investment Companies on Facebook?
Often, consumers think that when a brand is too corporate, it is also boring. In fact, it is, at least in most cases. That is why we love conservative clients, companies with traditions and a corporate image that are a challenge for us. The added value that comes with our work is that we bring them to life for consumers, present them in the most interesting way and we do not tolerate boring content that only repeats to consumers "buy, buy, buy" .
We are going to tell you about two of our clients, real estate investment companies, companies with traditions and future – Colliers Residential and Galaxy Investment Group. Or how we added a real value for them.
Colliers Residential, part of Colliers International, is one of the largest international real estate services companies, and in Bulgaria is a leader in the market for gated residential complexes and high-end properties.  First of all, we created a new website for our client, significantly reducing the textual content and turning it into infographics and illustrations. We have redesigned the structure of the website to make it intuitive and useful for the customer. Take a look at http://colliers-residential.bg/en/home in detail
Our client was skeptical that the target audience would interact with the brand on Facebook. Our work and results have succeeded in overcoming this fear. We did a survey of the interests and behavior of the target and made a plan for different content funnels. We varied the page with different content – quotes, infographics, gifs, and shared interesting articles. Here are some examples:
• Posts with quotes and messages that connect with the user emotionally. Through them we show the most important thing in a home – love and harmony in the family.
•  Posts that aim to spark consumer engagement and increase brand engagement: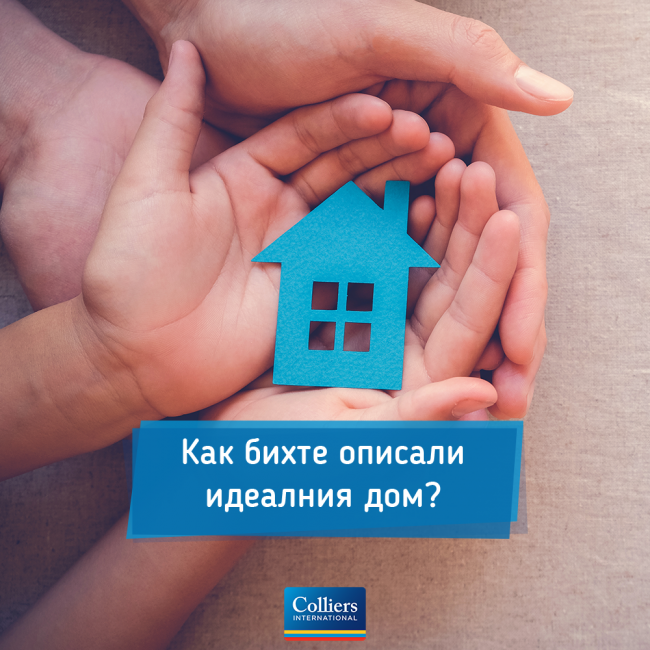 •  We reflected the holidays in a creative way:
•  We have created interesting content for the audience that will be useful for them when looking for solutions at home:
•  We represented specific properties through infographics:
Apart from our work in social media, we assisted the customer in his direct sales. Demand on the property market of monolithic apartments in downtown Sofia has laid the foundation for a massive online buying campaign.
We have prepared a landing page, the main purpose of which is to inform apartment owners in the center of Sofia who are looking for a way to sell their homes for the ability of our client to be interested in their property, to value it and to buy or mediate in the purchase of third parties.
You can check the landing page here – https://bit.ly/2Y4MhhF
We promoted the campaign on Facebook and AdWords.
The results we reported from the AdWords landing page for over a month in a highly targeted audience are over 5,000 clicks at an average cost-per-click of US $ 0.06
•  Total impressions – 90,208
•  Total clicks on ads – 762
•  Total "Free Consultation" Requests- 38
This article also introduces a small part of our work for Galaxy Investment Group, an investment company that manages projects in various areas of real estate. We made sure that the content and visual communication of the brand's projects were attractive to the audience.
Let us also present some of the content we have been preparing for the Royal City Residential Complex Facebook page to promote the Complex and the investment opportunities:
•  ООH visuals
•  Luxury catalog for the complex Royal Garden
•  Advertising materials and brochures
In conclusion, social media and digital marketing offer excellent opportunities for promotion and direct sales of real estate. Conservative or corporate, don't be boring and add value to your customers and consumers.
And follow us, of course 🙂
Comments