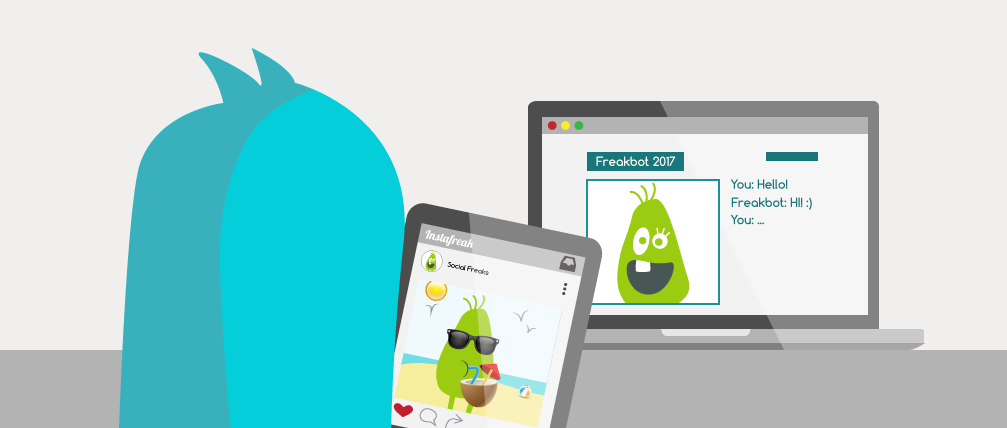 5 SMM Trends to Look Out for in 2017
You have probably heard it being said for the previous years, but it is especially on point for 2016: This year was the year of social networks. Their popularity continued to grow through all of 2016 and there are no indications showing any decline.
Here are five tendencies to keep an eye out in 2017
Live streaming video
Youtube was an absolute sensation in 2004. This videoshare site has allowed us to record, upload and watch videos. 12 years on, with the current capabilities of the mobile phones, we now have a device, which perfectly captures the LIVE event. Without recording, without editing. Just a pure, raw video.
Meerkat was the first social media network to make live streaming easy. Until Twitter bought Periscope and blocked sharing from Twitter to Meerkat. However, Facebook "Live" has already surpassed Periscope on Twitter.
The growing popularity of Live streaming videos change the way we share our stories and events (business or private) It gives us another tool to win and engage our followers. An example of live stream video done right was the dance competition by Buzzfeed in March.  "Dance Craze Battle:Live" was interactive, engaging the public to vote and suggest dance moves for the second round. This allowed Buzzfeed to introduce their team and to show the human element of their brand.
---
The Dawn of the Social media influencers
The Aces of social media content creation in fashion, food, exercise and a million and two other interests have a massive following on Instagram, Twitter and Facebook. The work they put into building their reputation and integrity earns them the people's trust and interest. In return the fans follow every word, picture or a video shared.
The big brands use the influencers in an effort to stand out in the crowded web space and grab the consumers' attention.
An interesting example is the collaboration between Mercedes-Bentz and an unlikely Instagram star-the dog Loki. This famous fluffy, wolf-like giant has more than 1.3 million followers and can be found under the name loki_the_wolfdog.
The very popular snow covered add for Mercedes, featuring Loki and his owner can be seen here:
Chatbots
Chatbot is a conversation agent, designed to participate in an intelligent conversation, without a human assistance. Two of the more popular chatboats are Apple's Siri and Chotu Bot.
In April 2016, Mark Zuckerberg announced, that a third party developers can use messengers platform to create their own chatbot. This boosted the worldwide popularity of chatbots. Their main function stays the same- improving the engagement in real time.  Chatbots in Facebook are quickly gaining popularity and are becoming a new useful marketing tool.
The Bulgarian company "Credissimo" is the first in the world which has released an automated chatbot service for online consumer loans. The chatbot system automates the entire process from application to approval for a loan and allows it to happen entirely through Facebook Messenger. The chatbot of "Credissimo" gives the feeling of a conversation with a real person, while eliminates the human error. It guides the customer in the whole process and even meets all the questions in real time. Click here to try it.
---
The decline of the organic traffic
In the beginning getting attention in the digital world was nice and simple. However things don't stay the same for too long. Too little space and too much content were the reason for chronological Timeline to be removed from Facebook, Instagrma and other social media platforms. This makes pages virtually invisible until the owners take out their credit cards and pay for the privilege. This is slowly turning social media into paid media.
---
Social media type "riffraff"
Because of the increase in the time spent on social media, it makes sense that they will have different purposes. More and more social media platforms have the option to purchase built in their applications. For example, Pinterest already allows you to buy pins and Instagram has just started their business platform. While buying of goods and services is not yet a fact on Facebook, it is only a matter of time before all social medias have some kind of market application. This will increase their appeal with the followers and decrease the amount of people leaving the platform.
---
What the Business needs to know in 2017?
To be successful on social media, doesn't necessary mean to adopt all new practices. It's a balancing act between current trends, market changes, brand changes, innovations and target audience.
In the current overloaded market the question to answer is: "How do I stand out?" An on-point social media campaign could definitely be the right answer.
Which brings us to another important point- how to communicate with social media. It is important to talk TO the followers and not AT them.
We can all agree that in the coming year social media will continue to be a major player in the marketing strategies of millions of brands around the world. The successful ones will be those ready to listen to their clients and willing to implement necessary changes to their campaign methods.
Comments