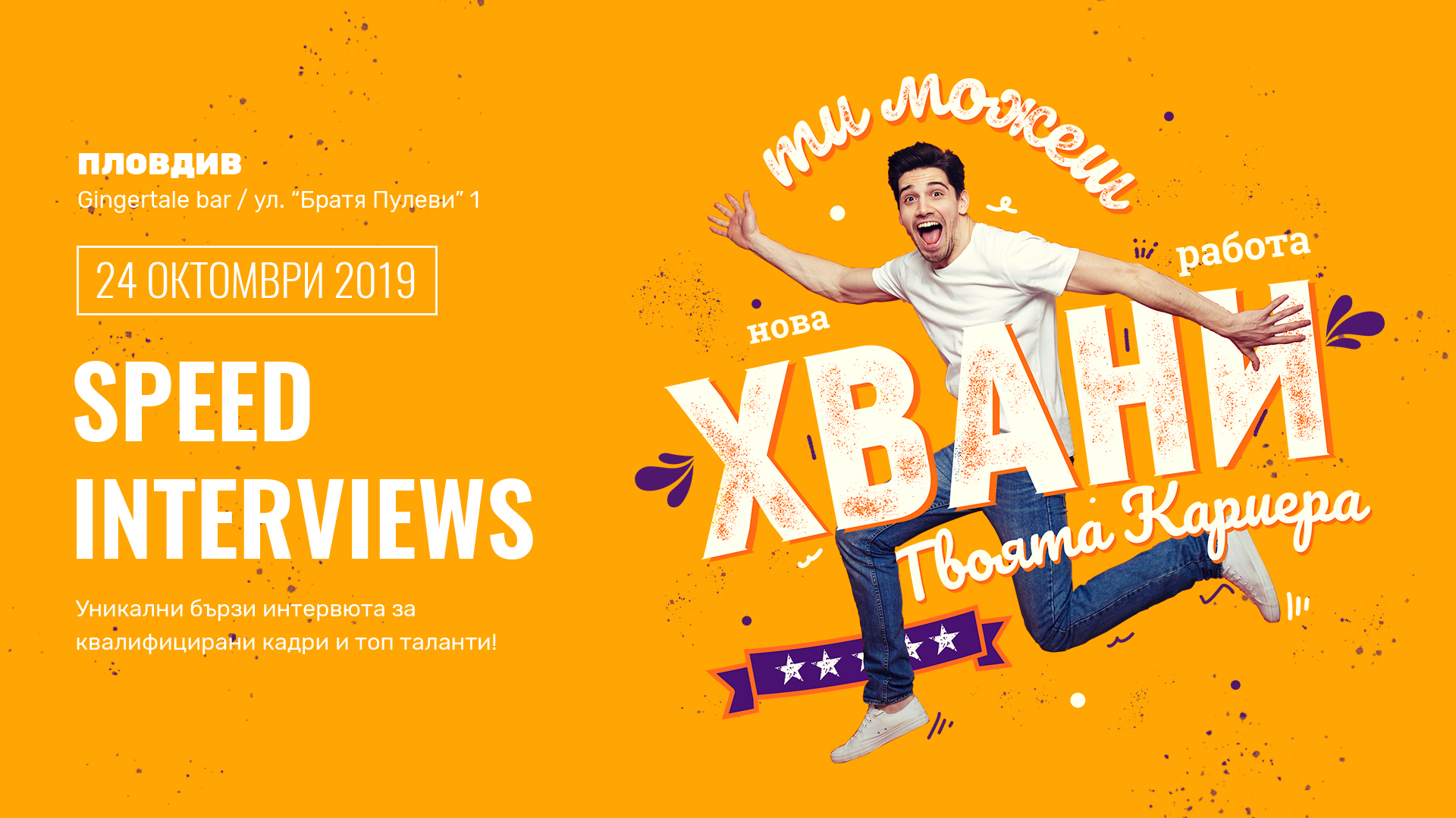 Speed Interviews: 3 minutes are enough to be successful
We say "I don't have time" so often, that at some points the "fact" turns into a simple excuse. You really have no time? But really?!
We are convinced that 3 minutes is enough for you to grow your career, learn about new interesting opportunities, and – why not – make the change you need.
Speed interview's unique career events are coming to Plovdiv on October 24th to prove you just that! These are 3-minute interviews for qualified employees with top employers. In the center of Kapana on October 24 we will continue in the rhythm of the crafts, where you will be interviewed by up to 10 companies that will give you new opportunities for development.
Participation is completely free, but registration is required here: Register. After registering and successfully completing the profile, everyone will receive detailed organizational information by email, including the hours of his interviews.
We were wondering if it is really possible to put together a good interview in 3 minutes? And we took our 3 minutes to talk to one of the organizers – Emil Tomov, Event Manager at Career Show and organizer of the event.
Is it possible to have an effective job interview in just 3 minutes?
3 minutes is more than enough. Of course, as in all things, preparation in advance is very important. It is a good idea for applicants to focus on performance by eliminating all the redundancy and to present themselves with two sentences to support their CV and grab the attention of employers. The same is true for companies – they know well what are the most important questions to ask and what is most important in presenting them as an employer.
Why speed interviews?
Speed Interviews are a format that gives you the fast start for the job you want. Within 30 minutes you meet with 10 companies that have an open position for you and will possibly invite you to the next meeting. We provide a platform that brings together skilled staff and good employers in very synthesized and well-organized meetings.
How do you choose who meets with the companies?
All candidates for our events undergo selection. They must meet at least 2 of the following 3 criteria – have at least a bachelor's degree, excellent foreign language skills and a minimum of 2 years of work experience. Our team reviews each application to ensure the effectiveness of the meetings.
Still wondering? See more about the events here: Events and sign up – you lose nothing.
Comments