Winter sales – a standard campaign seen in an unusual way
Winter and summer sales in shopping malls are usually a tough campaign for creative teams, because the basic association set in them is pure and simple – the discounts. There is no Christmas spirit about it, no romance for Valentine's Day or the thrill of a child unwrapping a present, nothing but simple math – you pay a little, you get a lot.
This year, however, we had an unprecedented inspiration and enthusiasm, and we decided to try our best, until we created the most creative campaign possible for with the same old task – Winter sales. Thus, relying on unconventional ideas and suspicious insights, we put together a simple, visually minimalistic, campaign with slightly different content.  And we created not one but three visuals, because our idea this time was to talk to the real people, for which we needed exactly 3 sentences.
The campaign "Winter Sales" for malls Galleria Stara Zagora & Galleria Burgas this time was "pure copywriting", because the insights behind every visual are so real and personal, that we even managed to convince our client, that this simple and minimalistic visual, that contains only text and basically no screams "DISCOUNTS!!1" at all, would work.
And there's absolutely no way it cannot work, because we really know what each one of us is thinking right after happily unwrapping a pile of presents from relatives on Christmas Eve… and that is "Honestly? Pajamas again?!"
And at that moment the spark of intention to buy yourself the nicest present you didn't get is finally born: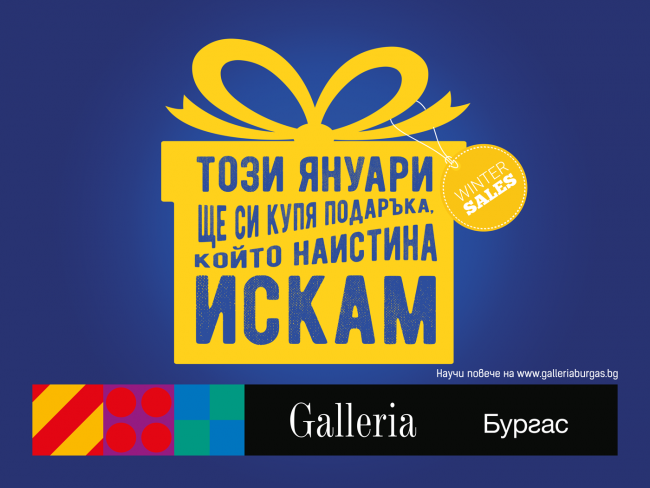 Later on we added other thoughts that drift inside our heads right before the Winter Sales – that the Christmas madness if finally over, that we bought everything for everyone, we just have not found time to take care of ourselves. But now, in the silence of the empty malls, we will certainly find a moment to pamper ourselves and buy something nice:
Or that the end of unnecessarily high prices has come because, hey, when, if not at Christmas, we can be forced to spend a lot of money to see the happy expression of our loved ones:
So all three visuals were used during the campaign, with billboards flooding the entire city, and everyone could stumble on the perfect message, which they would fully appreciate themselves. How could you not buy yourself a present, when you see this nice invitation? 😊
The same principle was set in our communication on social media – 3 visuals, changed every 10 days, and a wonderful video cover that softly invites you in:
And so – we do not have to stick to the clichés. Each campaign can be seen in a new, unconventional way and, above all, can bring you pleasure with implementing it. Because, after all, that's what we fight for, don't we?😊 Soon we will also tell you about our other hit – how to deal with the boring Summer Sales in 5 easy steps. Stay with us!😊
Comments